You must complete an I-9 for each new hire within three days of hire. Follow these instructions to take care of this task.
1. Log into teams.kitchensync.us
2. Find your new hire's profile by navigating to "Team Members" -> "Onboarding," then scan your list of open onboardings or search for your employee by name.

3. Enter the employee's profile by clicking on their name, then scroll down to the "Paperwork" section and click "Add New."

4. Select "Work Authorization" as the document type, then click "save" at the bottom of the screen.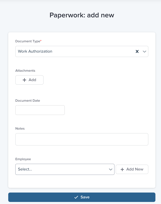 5. Back on the employee's main profile page, scroll down to the "Paperwork" section again and click on the record that was just created.

6. Now hit "Edit" in the top right corner of the next screen.

This will activate the drop down screens for selecting the type of work authorization documents that your employee has presented to you.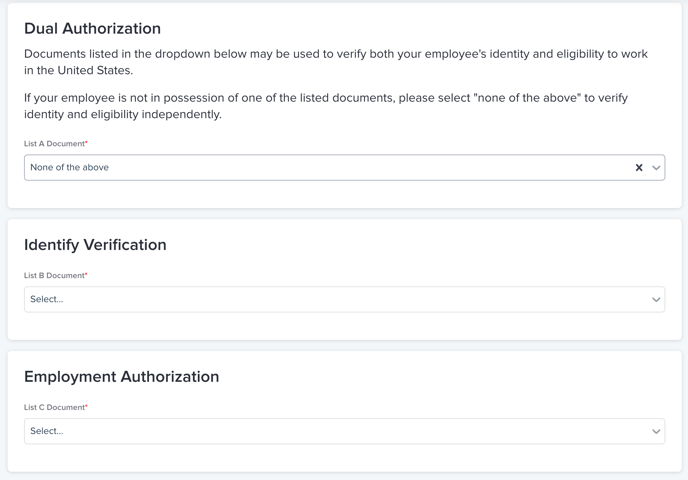 Tip: If you need help determining whether your employee's documents are acceptable for I-9 purposes, visit this page.
5. Enter the required/requested info and then press "Save."
You are not required to upload a copy of the employee's documents.
6. A few minutes after you save, you will receive an email from KitchenSync (via HelloSign) prompting you to review and sign the employer page of the employee's I-9. Review the information carefully, and then sign accordingly.
7. Contact our HR department if something looks wrong.
Look out for these common mistakes:
Employee's ID is expired
Employee's stated citizenship status does not make sense with the ID presented.
Example: Citizenship is marked as "alien authorized to work" but ID used was a Permanent Resident Card.
KitchenSync HR can be reached at hr@kitchensync.us or by calling or texting 424.248.9289.