First, bookmark this KitchenSync login link: https://calendar.kitchensync.us/
Once logged in, hover over the left-hand menu and navigate down to "Payroll Module". Once selected, the Payroll Module will open in a new tab so please make sure your pop-up blocker is turned off.

Once the new tab opens, click on "Payroll Module" under the Applications tab. The Payroll Module application will open to the defaulted time-clock screen.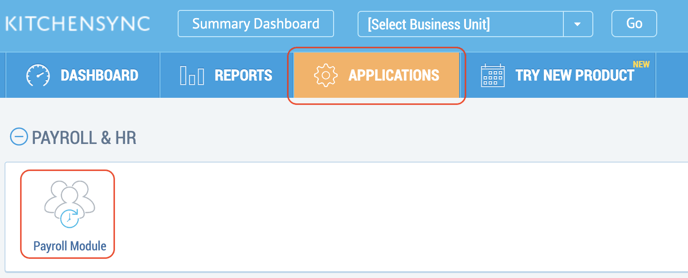 Troubleshooting Tips + Hints:
For security reasons, the payroll application will time out after a certain amount of time of no use. If you are getting an error that reads "undefined" when navigating between screens, please log out and log back in again.
Still having issues and running into red error messages that read "undefined" or "invalid"? Log out, clear your cache and cookies, then log back in.
If you are not yet on V2 (https://calendar.kitchensync.us), please use the following link to access the Payroll Module: https://login.kitchensync.us/. Once logged in, click on the "applications" tab to find the Payroll Module.